Email Marketing from Baltimore
Keep in touch with your clients and continually show your value.
Email marketing is one of the most underrated forms of marketing out there. Building an email list of current and potential customers is critical to bringing in more business.
Millions of dollars generated for our clients
We create email blasts that attract new business
Increase online exposure and boost customer loyalty
What is Email Marketing exactly?
Email marketing is a critical aspect of marketing for any business. It is the process of sending out mass emails to current and potential customers to promote your products, services, boost customer loyalty, and much more.

Here are some typical examples of emails our clients send: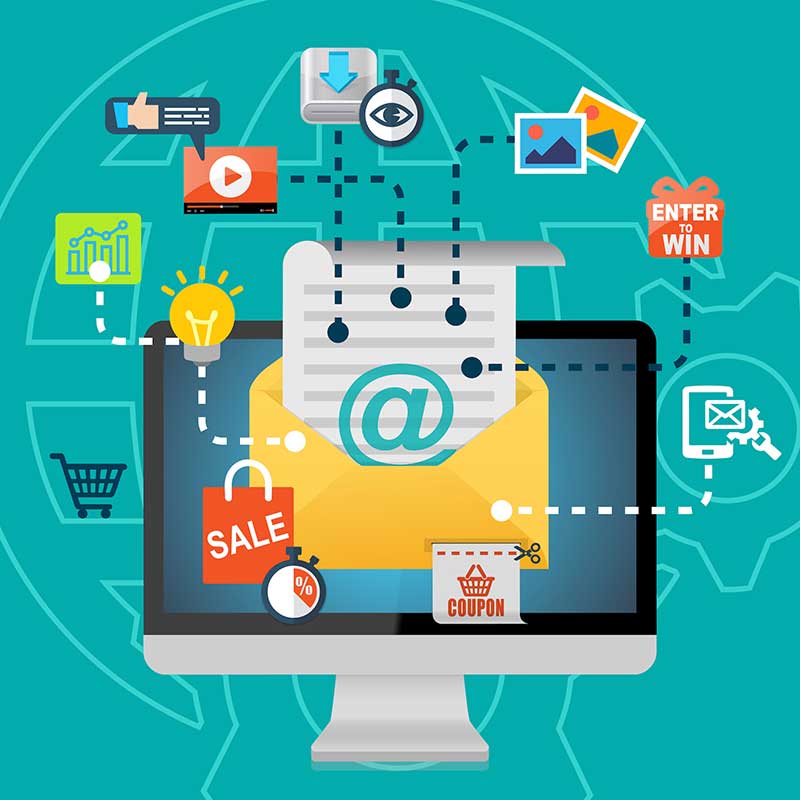 Why Should You Invest in Email Marketing?
You may have heard that email marketing is losing its effectiveness. In reality, that just isn't the case. Email marketing is one of the most efficient ways to drive new sales to your business in a very short amount of time.
Here are some of the reasons why email marketing is a great choice for businesses:
Americans spend 5 hours per day checking emails
According to a study by Adobe, Americans spend on average 3 hours checking their work email and 2 hours on their personal email. Despite alternative business messaging options available, Email is still the preferred method of communication for most businesses. This is mainly because it has been around so long and pretty much everybody is comfortable with it. A lot of people in the business world have a hard time adapting to new technologies, which is why they stick to old faithful.
Drive traffic and sales to your website
Do you have a particular product or service you'd like to promote or sell more of? Making a dedicated email blast that explains its value can be an easy way to bring more of your customers to your website to view the content and make the sale. It doesn't get much more targeted than that!
It's a quick and easy way to notify your subscribers
Have an announcement you'd like to tell your current customers? Instead of having to email all of them individually, you can create an email blast and click send. Everybody on your list will get the message immediately and it will save you a ton of time.
It's time and cost efficient
Email marketing is one of the best ways to increase business and spread awareness when on a smaller budget. You can use third-party email services like MailChimp to host your email list, and it's free up to 2,000 emails. You would then just need to create a high-quality email blast and send it out. You can see very strong and quick results using email marketing.
What's Included in our Email Marketing Services?
Our Email Marketing Services
Designated email marketing specialist
Email account setup through third-party service (we prefer MailChimp)
Import email list into third-party service (we prefer MailChimp)
Campaign and strategy development
Custom graphic/image creation
Manage email list subscribers
Landing page design and creation (costs extra)
Review all email analytics (send & open rates)
"Alex does amazing work and puts his heart into everything he does. Very respectful and talented at what he does. He created our website and Sales have gone up and several more contacts have been gained. It's been a blessing working with Danner Digital and watching them do what they do best. I'd definitely say 5 stars isn't enough. Thanks again!"
"I would definitely recommend Danner Digital to other people, not only were they friendly and knowledgeable with their services, but if I had a question after hours or on the weekends with our website, he was quick to respond... Our online sales have increased with our user-friendly format on desktop and mobile use!!! Thanks again Alex for all of your help!!!"
"We have had nothing but a great experience with Danner Digital. They helped build our website and did SEO optimization and we have been seeing a great increase in calls as well as inquiries from our website. They are very knowledgeable and highly recommend this company!"